A wide selection in colour and care
Laederiet offers a large selection of different products for colouring, cleaning and caring for leather materials. You can find the specific products in the categories above; Proofing, Edge treatment, Colours for Leather, Glue, Care and Finish and Brushes and Sponges. Here, you will find anything, you need for colouring and caring for your leather materials and products.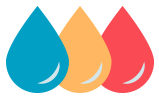 Colour
Laederiet offers many kinds of colour, which means there is definitely something for you. For example, we offer the water based colour Waterstain. You can use it just as it is, or you can mix them together to create the exact tone, you wish for. Waterstain colours are easy to work with and the colours have great depths and brightness.
Another option is the well-known leather dye. Common for both of these is that you have to work it into the leather in circular motions, polish it, let it dry and harden for about a week, before you nurture it by using leather grease or soft cream. If you wish to have a shinier surface, you can use Leather gloss S20 or Satin gloss before you nurture the leather. Furthermore, we offer decorative paint, colour for furniture or colour for refreshing the leather. You can always contact us for further guidance and instruction concerning colour.

Cleaners and care
We offer a wide range of cleaners and products for leather care. In the category Leather Cleaner, you will find different options for cleaning. You are only supposed to use some of the products before recolouring, and the gentle cleaners can be used before applying leather care. This can be both leather grease, balm, gloss, oil or proofers for clothing and shoes. Finally, Laederiet offers different kits, both for your car, your leather furniture etc. In these you will find anything you need for cleaning and caring for your leather materials.