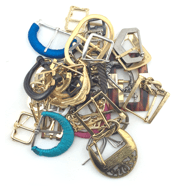 A wide range of belt buckles
Laederiet offers a wide selection of more than 100 different belt buckles for all kinds of uses and in many kinds of material. Here, you find a selection of buckles in different shapes and sizes and a large amount of trophy buckles, which all have their own personal expressions. Also, we sell the belt buckles as lots or lucky bag buckles, which are sorted by size and kind. You will find all of our products here on the webshop. Here, you can find and select the specific belt buckle that satisfies your needs and wants.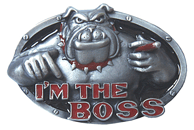 Trophy buckles
All trophy buckles are moulded, and there is a great selection to match any style. Also, all trophy buckles fit belt widths of 38-40 mm, and they are mainly produced in tin. In the category Trophy buckles, you can see and select from our large selection. In that way, you can find the ones that match your personal style.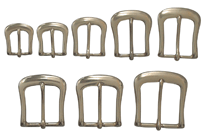 Belt buckles
The belt buckles are produced in different materials. Most of them are made from zamak, which is a metal alloy that mainly consists of zinc. Finally, they are treated with a surface finish. Here, there is also a wide selection of different variants, which will match your wants and needs, no matter if you look for a simple, classic belt buckle or a more decorative and detailed buckle. In addition, we sell belt buckles in a wide choice of sizes for many different belts. All measurements of the belt buckles are measured on the inside of the buckle, which means that the measurement should equal the width of the belt.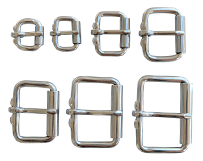 Inox – stainless steel
As something new, Leaderiet now offers a completely new series of belt buckles in stainless steel. The series is called Inox and – due to the stainless steel – the buckles have a beautiful finish and they are almost impossible to wear out, unlike others, which are alloyed. This material makes sure that the colour of the buckle does not change over time, despite wear and tear. Likewise, we offer the Inox buckles in different kinds and sizes.