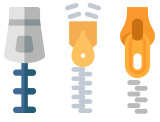 Large selection of zippers
Laederiet offers a wide range of zippers in the colours black, brown and nature and in different lengths. The spiral zippers are either 4 mm, 6 mm or 8 mm wide and the vislon – and metal zippers are 6 mm wide. The measurements state the number of teeth on the width of the zipper. Furthermore, Laederiet offers different accessories in this category. You can have a look at all the different products and the accessories in the categories above. Here, you can find the exact products, which fit your needs.

YKK's selection of zippers
Laederiet offers YKK's entire selection of zippers in all lengths, types, colours and with different sliders. YKK are market leaders when it comes to zippers and other locking mechanisms on the Danish as well as the international market. They are a part of the Japanese YKK group. This secures that you purchase products of high quality, as they make use of quality control checks in all YKK factories in the world. The selection consists of metal –, spiral – and vislon zippers, which can cover all needs. All spirals and metals are in stock in black, brown and nature. In addition, the vislons are in stock in black and the divisibles in black and brown. However, we can order and deliver YKK's entire selection and the delivery time is approx. 3 weeks.

Help choosing
Do you have any questions regarding our selection of products or anything else? Then you are always welcome to contact us via e-mail or phone. Also, you are always welcome in our store as well. Here, you can have a closer look at our selection, and we are always ready to help and guide you.