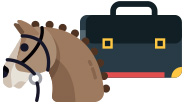 Wide range of metal rings
Laederiet offers a large selection of metal rings in several sizes and shapes. You can use the rings for many purposes. With our wide range of different types of rings, you can find exactly what you need. You can use the rings for bags, harness, collars for dogs or horses and much more.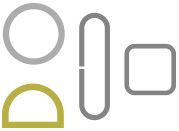 Different types
We sell metal rings in many shapes, both squared, oval, round and D-shaped. You can use each of them for different purposes. Furthermore, the rings are either open, welded or cast.
The open ones have a small opening in the ring, which makes them useful for e.g. bags and purses. You can twist the ring open, which makes it possible for you to push it over a strap on a bag. Afterwards, you can twist the ring back into shape. The welded metal rings are closed, and it shows on the ring that it has been welded. The cast rings are also completely closed and they have an even surface, as they are cast into their particular shape. The welded and cast ones are thus useful for harness and collars for dogs, horses etc. Moreover, we offer a round ring in a luxury edition, which has flat, even sides and a beautiful finish.
We have stated all the sizes as the measurements on the inside of the rings. We have stated the size of the D-shaped metal rings as the length of the straight side of the ring.

Materials
The manufacturers have primarily made the metal rings from iron with a surface finish. This can be both brass, zinc, gun metal etc. Gun metal is a bronze alloy consisting of copper, tin and a small part zinc. The cast rings can also be made from German silver, which is an alloy made from copper (45-70%), nickel (8-20%) and zinc (8-45%). They can also be made from pure brass or stainless steel. You will find the entire collection in the categories above.