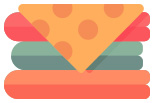 A wide range of fabrics sold by the metre
Laederiet offers a great selection of different sorts of fabrics sold by the metre for many purposes. The fabrics are part of a varied selection of different colours and sizes, depending on the specific material. Here on the webshop, you can find all the prices, measurements and colours, and you can select the exact fabrics you are looking for.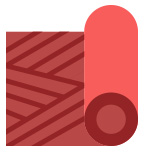 Materials
Laederiet's fabrics sold by the metre consist of stiffening materials, felt and felt of wool, and linen-, jute-, and cotton canvas.
The stiffening materials viledon and adhesive canvas cotton are suitable for skin etc. to be used for bags, belts and much more. Viledon has glue on the back and you have to iron it onto the skin at a temperature of 110 degrees. We sell it in four different thicknesses. You can use the artificial nappa for e.g. chairs, workout benches, seats and much more. It comes in a great variety of colours, and it is 140 cm in the width. Our felt and felt of wool are also suitable for many creative projects. For example bags, dish mats and different types of covers. The felt consists of 90% wool and 10% polyester, and it is 150 cm in the width. The jute canvas is 120 cm wide, whereas the linen- and cotton canvases are 100 cm wide.
Furthermore, Laederiet offers a linen canvas ("Viking"), which is proofed against both rot, water and fungus. This linen canvas is especially suitable for Viking tents.
Fabrics for many purposes
On the webshop you can find further information about all products. This is both in regards to prices, measurements, colours etc. From here on, the only limitation is your own imagination.