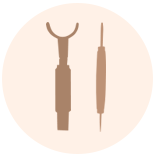 Wide range of products for carving
Laederiet offers a varied selection of stamps, stamp sets and other tools for carving to use on leather materials. In the categories above you can see the different products. Here, you can have a closer look at the many beautiful stamps and stamp sets.

Stamps and stamp sets
In this category, you will find a varied selection of stamps and stamp sets. A stamp is a tool, which you can use for creating a pattern or motif on the leather. The stamp is a small bar of steel, where the motif is placed on the head of the stamp in one end of the bar. You then apply this to the leather. In order to achieve a sharper result, the leather has to be moist, when you carve it. 3-D stamps are bigger motifs, around 25x25 mm. For these stamps, it is necessary to buy a separate handle.
Besides the separate stamps and 3-D stamps, you will also find different stamp sets with both the alphabet, zodiac signs, emojis and much more. You can use all of these for carving leather to create a personal and unique look.

Accessories for carving and stamps
Laederiet also offers a wide range of accessories for carving. Here, you will find the categories Woodburning Pen and Pyrography and Tools for Carving. Woodburning pens and pyrography are also used for creating a personal look on your leather materials by burning into the leather. In the category Tools for Carving, you will find a selection of modelling tools, which you can use for carving patterns etc. into the leather. Furthermore, Laederiet offers both swivel knives as well as sharpening tools and additional blades for the swivel knives. You can use all of these products on your leather materials in order to create a personal look with either a pattern, a stamp or something else that matches your personal style.