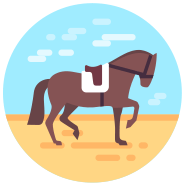 Saddlery equipment
Saddlery, which is the production of saddles, is an old craft, which still exists today. Laederiet has a wide selection of equipment for saddlery and other materials. This makes you able to work with saddlery yourself. We offer functional, practical materials, e.g. straps for saddles, harness buckles and harness ornaments and conchos in many designs. Furthermore, you will find bells, two-sided halter squares and much more for harness. You can have a look at the different products in the categories above.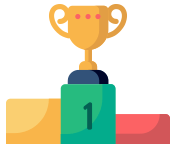 High-quality materials
Laederiet offers products for saddlery equipment of high quality. It is very important that the products are strong and robust. This is due to the fact that they are exposed to much wear and heavy loads when they are used. The straps for saddles are made from a particularly strong English leather. This makes them able to handle the heavy load. You can use these straps for both the girth and stirrups. All other products are also very strong, as the manufactures have made them exactly for saddlery. Therefore, the saddlery equipment from Laederiet secures a strong product, to make you feel safe when using it.
Do you need any help or guidance choosing your saddlery equipment? Then you are always welcome to contact us via e-mail or phone with questions or concerns. You are of course also welcome in our store. Here, you can look closer at our different products and saddlery equipment and ask us all of your questions.