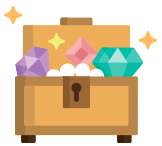 Accessories for unique jewellery
You can use Laederiet's big selection of accessories for jewellery to create completely unique jewellery. This includes both necklaces, bracelets, ankle chains etc. In the categories above you can have a closer look at the selection. It consists of both bolo laces, leather cords, clasps, pearls and pendants. You can use all of these to give your jewellery a personal expression. The accessories can be used to create a completely new piece of jewellery. Otherwise, you can use them to update some of your own jewellery. You can do this with either a new cord for your own pendant or with new pearls for you own lace. The only limit is your imagination.

High-quality materials and accessories
We have all cords and laces in the category Accessories for Jewellery available in a wide range of colours and sizes. Therefore, you can use it for many different designs. The bolo lace is round-braided with flat leather cords. It creates beautiful character in your jewellery, and the sewn leather cord gives a classic and simple expression. You can also choose the beautiful, decorative python cord, which is available in brown, sand and nature.
All jewellery clasps are in stainless steel and nickel free, and they are available in many shapes and sizes. You will find both small, simple clasps and bigger clasps. They can even work as a substitute for a pendant on your jewellery. Furthermore, Laederiet has a wide selection of pearls and pendants, which add a beautiful finish to the look and design of your jewellery, and there is something for all styles.
In Accessories for Jewellery, you will also find our selection of glue, which you can use for jewellery production. ProtoColle is an extremely strong cyanoacrylate glue, which is used for wood, synthetic materials and textiles. ProtoColle flexible can glue both absorbing and non-absorbing materials.