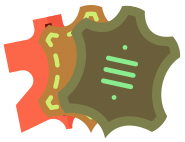 A wide range of custom skins
Besides Laederiet's large selection of other types of leather and skins, we have a beautiful selection of custom skins. These come from different animals than calf-, lamb-, goat-, and pigskin. You can use these, as well as all our other skins, for a large number of different purposes. Also, they are available in many sizes and colours, and there is something for any style.
About custom skins
Skins have been used for as long as humans have existed. It is an organic material, and there are not two pieces that are similar. This is exactly what makes skin popular, since it is unique and is marked by the life, climate etc. the animal has experienced. As opposed to many materials, skins only become more and more beautiful in time. The age gives the skin patina, which gives the skin more value and makes the skin even more unique. It is a both practical and beautiful material. Therefore, it will continue to be in demand for both clothing, in interior design etc.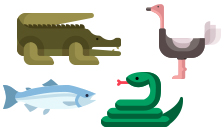 Our selection
Laederiet's range of custom skins consists of both fish-, reptile-, and ostrich skins as well as ostrich legs. You can have a closer look at them in the categories above. Of fish skins, Laederiet offers both catfish, stingray, salmon etc. The reptile skins are from python, crocodile, snake, lizard etc. Moreover, we offer both ostrich legs and chicken feet as well as ostrich leather.They come in a wide range of beautiful colours. You can have a closer look at all the custom skins above, Here, you can find what you are searching for.