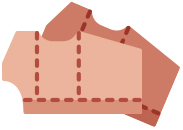 Patterns for shoes
Laederiet offers a selection of patterns for making different shoes. Here on our webshop, you can shop from our range of different patterns for footwear for both men, women, children and babies. Besides from this we offer several kits. These contain the materials needed to make the finished product, which you choose to make. However, make sure that you have the required tools, which you need for the kit.
Our selection
Laederiet's range of Solizner patterns for shoes are available in different sizes, colours and styles. Among others, we have patterns for historical shoes,
such as Viking shoes, Iron age sandals etc. Here you will find both boots, slippers, sandals etc.
You can have a closer look at our selection in the categories above and find exactly what fits your style and meets your needs. If you have any questions, you are always welcome to contact us. You can reach us via phone or e-mail. Here, we are ready to help you and answer your questions. You are also very welcome in our store. Here, you can have a closer look at our selection and ask us all your questions.